If you're like me – a writer with only rudimentary amounts of Web design experience – then you've already embraced WordPress with open arms.   And, if you're still like me, there is an aspect of WordPress that gets on your nerves – it is, after all, a dang web platform! Arg, web design is hard!
In the past, I've outsourced my Web design, which seems to have worked out pretty well, considering I've never needed to build a new WordPress design again.  But if the Artisteer WordPress theme creator does what it says it will do, I might never need to outsource again.  In fact, if Artisteer works, maybe people can pay me to do their design.
After feeling my way around the Artisteer software and testing it out, I've taken a few screen shots and made this Artisteer review for you.
Artisteer starts you out with a nice little beginning template – nothing too fancy, but nothing too WordPress 1.0 either – and the menu is pretty simple.  I click through some of the buttons like "Suggest Header" and the heading background suddenly turns into random pictures of skylines and a guy playing a guitar.
A nice feature that's easy to use is the "header" and "column" section of the software, which allows you to easily move around your menus and your columns.  For some reason, I never am quite happy with the columns I get in my blogs, so this is a big one for me.
You can make both "thin" and "thick" columns just by selecting the basic layout from a menu.  I found the options pretty much gave you what you might want – honestly, how many ways are there to build columns, really?
Before long, I find myself fiddling with all of the features of the design – sheet width, background gradient, color themes.  Artisteer has a pretty intuitive menu and features outline that makes it easy to understand, even for a novice like me.
After choosing a color scheme and basic template, the rest of your design decisions will be affected by it.  When you click to edit your button colors, for example, they'll give you options that fit in the range of the color scheme you've already chosen.  This takes the "duh" factor out of choosing your colors and making yourself look like a bad designer because you didn't pay enough attention to the individual colors you were using.
Also, at every feature, you'll find a "suggest" button that will do the work for you.  You just keep clicking "suggest" and Artisteer toggles through different colors, schemes, layouts, and headers.  Do you think I could come up with a blog about leaning on balls without some help from technology?  Please.
Though the menu is simple enough, if you want to get into more detail about your blog, you simply click a little arrow in the lower-right section of the part of the menu you'd like to expand.  This sounds like something that could use a visual aid.
If you really want to mess with your WordPress blog, you're going to have to make the big decisions first.  The big decisions include the color scheme, header, and general layout of the thing.  You can swap where you put your menu (I, in the above pictures, opt for the "above-header" position) and add an extra column.
The Artisteer is pretty fun – particularly if you let it design itself and click "suggest" at every turn, when you truly come up with some strange combinations.  But there are some downsides to the software, as well.  Here are my overall impressions of the positive and negative aspects of Artisteer:
Positives
Easy-to-use:  Unless you're one of the people who doesn't "get computers," if you've used Facebook, there's a good chance you can use Artisteer.  It might take a little support if you're not sure how to export your theme into an actual WordPress blog, but Artisteer seems to make that process as simple as possible.
Attention to detail:  If you like the basic two-column design of most blogs, you'll find this software will easily let you customize a large range of details and broad-spectrum ideas.
Professional-looking:  It's very easy to come up with a professional-looking site that is unique to your individual blog.  Once you make decisions on the big things, the software will then build the rest of your options around those early decisions, making the design flow naturally.
Negatives
Opportunity for creativity:  Where is it?  Though the software does a good job of allowing you to control a lot of details about your blog, there's really no space left for outside-the-box design or adding some really freaky widgets.  That's fine if you don't mind a basic template to serve your utilitarian blog, but the designers looking to push the envelope may not be able to here.
As you can see, the positives generally outweigh the negatives in this Artisteer review.  I definitely can say I'd recommend Artisteer to someone who was looking to create their own WordPress blog theme, particularly those friends of mine who have no experience publishing much of anything online.  You'll quickly, easily, be able to pick up on how it works and be able to create something that looks better than the Blogger templates you'll find.
For those with more advanced tastes, I can't say that I have much for you.  Of course, you don't exactly need a program like this, do you?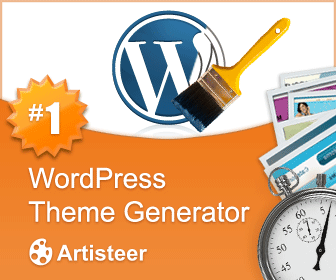 Check out Artisteer at: www.artisteer.com
Disclosure: Clickfire received a working copy of the software from the company in order to test and perform the Artisteer review.